Home / Sports / Hawkeye Sports
Iowa notes: Shumpert fits in, B1G night games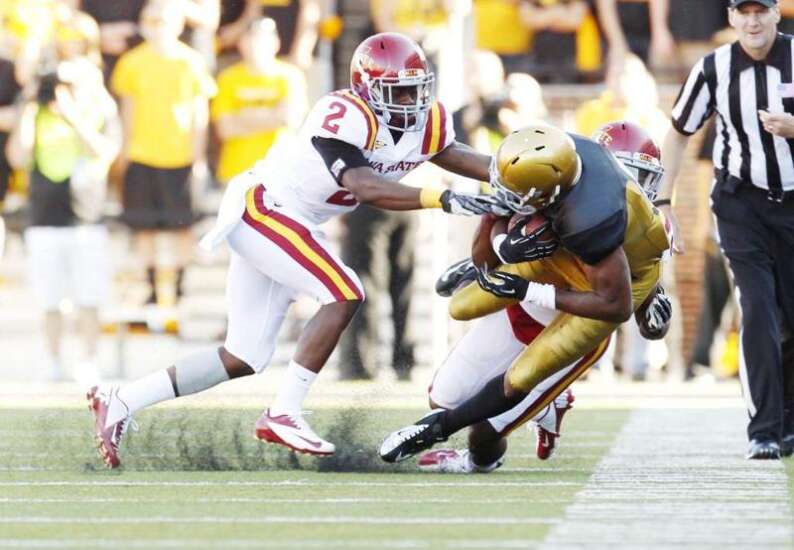 IOWA CITY - Iowa's Don Shumpert earned key minutes at wide receiver early in his junior season.
Shumpert caught six passes in Iowa's first two games last year, including four against Iowa State for 29 yards. But he then slipped off the depth chart and appeared mostly on special teams the rest of the season.
Shumpert, a senior this fall, admitted he wasn't up to speed last year on how to correctly play receiver under new offensive coordinator Greg Davis. That led to confusion, and Shumpert never fully grasped the position.
"It was pretty hard at first," Shumpert said. "The concepts weren't that hard, but it was just the fact you had to learn them all that quick. So in practice we were probably thinking more than just playing."
Among the issues Shumpert struggled with included route concepts, proper spacing and crisp releases off the ball. With new wide receivers coach Bobby Kennedy's experience as a Davis disciple, Shumpert said most of his questions already have been cleared up.
"It's actually been a good transition," Shumpert said. "He ran this offense before, so he can teach us a lot of new things that we didn't know."
Shumpert said he considers playing for Kennedy "a fresh start" and raved about the opportunity he'll receive. Kennedy said last week he was pleased with Shumpert's speed and hopes to incorporate the senior into the offense.
"When I went into my room for my first meeting, I kept Jordan (Cotton) and Donald out, and I said part of my job is to make sure you leave Iowa the right way and go out the right way," Kennedy said. "Part of my job is to make sure I coach them well and get them in the right positions. But what I want to do is make sure when the guys walk out of this program they feel good about what they've accomplished and they feel good about their experience at Iowa."
Night games
The Big Ten traditionally has kept football games off the November night grid - partly because of weather - but league officials have discussed adding Saturday night games this year.
"I don't know if it will be happen immediately or in the short term or the long term," said Big Ten senior associate commissioner Mark Rudner. "But I think Jim (Delany) has been pretty up front that we would certainly consider November primetime games if institutions wanted to do it. We're still scheduling, still working with BTN and ESPN/ABC on our primetime schedule for next season."
The primetime slate will be announced in late April or early May. Only one league primetime game has been announced - Notre Dame at Michigan on Sept. 7. Rudner declined to reveal which Iowa game would air in primetime. The Hawkeyes have played host to a primetime game in six of the last seven years.
Salary update
Iowa will pay its three newest assistant coaches more than $780,000 in salaries for the upcoming fiscal year, according to documents supplied by the school to The Gazette via the Freedom of Information Act.
Kennedy will make $270,000, while running backs/special teams coach Chris White earns $261,000. Defensive assistant Jim Reid is slated to earn $249,999.