Home / Sports / Hawkeye Sports
Iowa's Gesell will play through the pain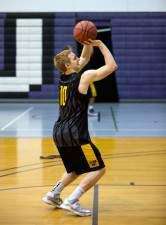 NEW YORK - Mike Gesell ran and stretched and popped jumpers Monday afternoon like nothing was bothering him. But minutes after his team's workout at New York University, the Iowa freshman guard slapped a walking boot on his right foot.
"I've been in this boot for way too long," Gesell said. "I don't need it to walk around. I've just been wearing it to stay off it as much as I can, just trying to relieve all the pressure on it when I'm out walking around and stuff.
"The boot's pretty annoying so after the season I'll probably ditch it. It's just a precaution to get me as ready as I can to play."
Gesell has a stress reaction in his right foot that isn't prone to breaking, but it causes major pain. He suffered the injury in mid-February and sat out the final four regular-season games. He earned two starts in the Big Ten Tournament but played sparingly in the second half against Michigan State when his foot became an issue.
In Iowa's three NIT games, Gesell has come off the bench to log modest minutes. But in the Hawkeyes' 75-64 victory against Virginia, Gesell played just nine minutes in the first half. He was productive, scoring seven points with one assist and two steals.
"I tweaked it in the first half and I came out right away and talked to the trainer and he said we'll try it out at halftime," Gesell said. "At halftime I tried to shoot a pull-up jumper in the lay-up lines, and it was just a real sharp pain. So I knew I couldn't be out on the court going 100 percent, and I knew if I couldn't go full speed, I wouldn't be helping the team. I told the coaches that I'm going to sit down for the rest of the game and cheer on my teammates.
"I'm just thankful we had different guys step up and we were able to get the W."
Gesell, who averages 8.7 points will be able to play Tuesday against Maryland in an NIT semifinal. For how long, that's anybody's guess.
"He'll go, yeah," Iowa Coach Fran McCaffery said. "The question is always with him, how effective and how long? The other night he looked great in a half and then we had to shut him down.
"So hopefully he'll be fine and he'll be able to play 18, 19 minutes. But that would be about the max for him."