Home / Sports / Hawkeye Sports
Road win a blessing for Iowa's mindset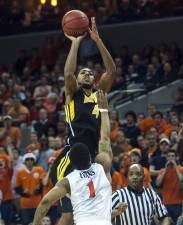 IOWA CITY - The "here we go ago" signs were obvious and plentiful at Virginia last week.
Iowa (24-12) took a 10-point lead midway through the first half, then the Cavaliers rallied. With 17:12 left in the game, Virginia took four shots in a single possession to snag a one-point lead.
"There was that 34-33, where it's kind of, where's this game going?" Iowa sophomore Aaron White said.
Virginia was in the midst of a 9-2 spurt, like Michigan State's 22-2 run in a Big Ten Tournament quarterfinal that Iowa lost by three points. It resembled games where Iowa blew first-half leads of 19 at Nebraska and 12 at home to Michigan State. It had a similar feel to the last-second collapses at Minnesota and Wisconsin.
But this time Iowa didn't fold on the road. With an NIT semifinal berth at stake, the Hawkeyes tightened up. They traded blows. They hit big shots. They didn't commit turnovers and they executed offensively.
"We made some big plays," White said. "It was just good to see after all those games where we let it slip away, we had momentum in our direction and we closed out the game how we should have."
Iowa's didn't capitulate, which was a testament to their lessons learned. Through the first 14 games of Big Ten play, Iowa had 10 single-digit games. In the final two minutes, Iowa shot 32 percent to its opponents 56.6 percent. Iowa's foes sank 82.6 percent of their free throws while Iowa staggered to just 51.7 percent.
Against Virginia, Iowa executed with precision in the second half. Iowa made eight of its final 15 shots. The Hawkeyes didn't take an official shot in the final three minutes because they went to the free-throw line on seven of their last eight possessions. They made all 14 free-throw attempts in the final 3:09.
That's in direct contrast to the home Michigan State game - a three-point loss - where Iowa missed four of its final eight free throws. Iowa combined for 3-of-7 from the line in the two overtime periods in a four-point loss at Wisconsin.
Both White and Iowa junior Devyn Marble said the team's attitude was different at Virginia.
"I told you it would come to a point where this team would get sick of that and after Michigan State - even though it wasn't a road game - I think the team was sick of losing, especially games where we had leads late and we should win," Marble said. "I think it was just a mindset of 'this isn't happening tonight.' So that's a good thing."
"I think it was a different confidence, a little bit of swagger that we didn't have on the road earlier," White said.
It also mattered that the team won on the road. The Hawkeyes finished 18-2 at home and were 2-8 in true road games this year. Those wins were over Northwestern and Penn State, the Big Ten's 11th and 12th-place teams, respectively.
"I love Carver and the fan support," Marble said. "We needed that from the standpoint of just showing that we could beat a quality team against somebody else who was NCAA tournament worthy. I think helped us out a lot. I'm pretty happy that we had to go there and prove ourselves. Now we move on."