Report: Iowa City school district could see 3,000 more students in next decade
Gregg Hennigan
Mar. 28, 2013 6:55 pm, Updated: Dec. 28, 2020 3:33 pm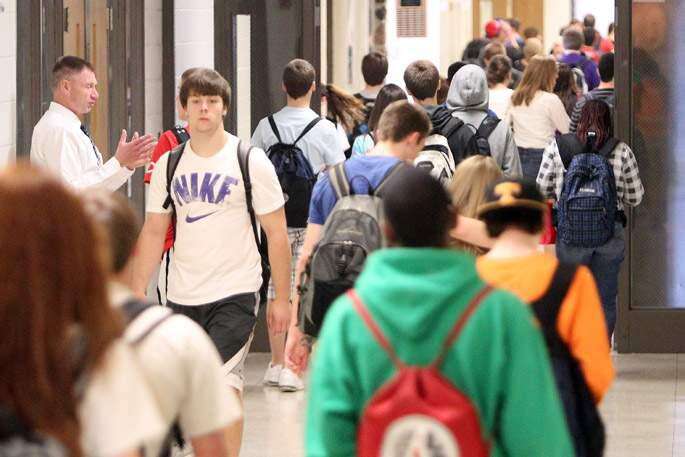 IOWA CITY – Enrollment projections released Thursday show the Iowa City school district could add up to 300 new students annually for the next decade.
That would be another 3,000 students when classes start in fall 2022. The district's enrollment this year is 12,479, which is about 2,000 students more than 10 years ago.
With the enrollment data coming on the heels of another report this month that found most of the district's schools are overcrowded, a building boom can be expected, officials said.
'Given the past and predicted growth, as well as our aging infrastructure, I think it's safe to say there will be a continuing stream of building new and upgrading the existing' facilities,' school board member Jeff McGinness said.
That the district is growing fast is well known, but the report from Ohio-based consulting firm DeJONG-RICHTER provides 10 years' worth of enrollment projections and other data that will help the district in long-term facilities and financial planning.
The firm used two methodologies to forecast enrollment. One that uses data on live births, historical enrollment, open enrollment, census records and building permits predicted enrollment would increase by 2,893 kindergarten through 12
th
-grade students in the next 10 years.
The other method examined areas likely to see residential development and found a potential for 2,574 additional students in the next 20 years. Only development currently known to be planned was considered, which likely resulted in the lower figure, according to the report.
Projections are considered less reliable the farther out they go, but the report says the most rapid growth is projected to occur in the next four years with the addition of nearly 1,600 students.
The biggest growth areas are in the north, west and east-southeast sections of the district, which includes the towns of Iowa City, Coralville, North Liberty, University Heights and Hills.
Elementary schools cited in the report as having the highest predicted enrollment increase include Garner, Penn and Van Allen in North Liberty; Wickham and Borlaug in Coralville; and Horn, Weber, Lemme, Lucas, Twain and Wood in Iowa City.
DeJONG-RICHTER projects City High's enrollment will increase 663 students by fall of 2022, hitting 2,077. West High could add 366 students in that time, reaching 2,322.
A facilities review by a different consultant found most of the district's schools are above or near their capacities. That includes City High and West High, with capacities of 1,300 and 1,700 students respectively.
In fall 2015, enrollment at the two high schools will be more 700 students higher than their combined capacity of 3,000, according to the enrollment report.
Superintendent Stephen Murley, who could not immediately be reached for comment Thursday, has given a tentative open date of 2020 for a new high school.  School board member Tuyet Dorau said that may need to be revised.
'Perhaps we do need to push that up from Steve's date to something sooner, given the capacity numbers,' she said.
The prospect of a new high school has been divisive in the community in recent years. That includes among school board members, although there's general agreement one will be needed at some undetermined time in the future. School Board President Marla Swesey did not immediately return phone and email messages Thursday.
In February, district voters approved a document that would allow the district to borrow ahead on up to $100 million in sales tax revenue. District officials said that money would go toward a new high school, three new elementary schools, building additions and repairs.
McGinness, chairman of the school board's facilities committee, said that money likely would not be enough to meet all the district's needs highlighted in the two recent reports.