Home / Sports / Iowa Hawkeyes
Meet Virginia, Iowa's next NIT opponent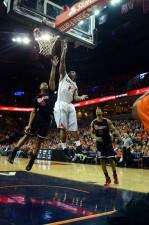 IOWA CITY - The similarities are striking between Iowa and its next NIT opponent, Virginia.
The Cavaliers (23-11), which dropped St. John's 68-50 this morning, employ a deep bench, play good defense and are tough at home. Virginia plays host to Iowa (23-12) in an NIT quarterfinal at 6 p.m. Wednesday (ESPN2) at John Paul Jones Arena. The winner advances to the NIT semifinals April 2 at New York City.
"That's always been a dream of mine," Iowa sophomore Aaron White said of playing at Madison Square Garden.
It won't be easy for Iowa. Virginia has won 19 straight home games and all nine ACC games this year. That includes wins against Duke and North Carolina. Iowa (18-2 at home) was 2-8 in true road games, beating Penn State and Northwestern.
The Cavaliers feature the nation's fourth-best scoring defense, allowing just 55.2 points per game. They stifled opponents to 10 or fewer fast-break points in 31 of 33 games entering Sunday. Virginia averages 5.8 steals per game and held opponents to 38.6 percent shooting from the field.
In their NIT second-round win against St. John's, the Cavaliers held the Red Storm to 33.9 percent from the floor and only 2-of-16 from 3-point range. Virginia also forced 14 turnovers.
Iowa held opponents to 38.8 percent from the floor and only 29 percent from 3-point range. Both statistics led the Big Ten this year.
Virginia boasts one of the nation's top scorers in 6-foot-6 junior combo guard Joe Harris, a unanimous first-team all-ACC selection. Harris averaged 16.4 points per game, including 18.4 points in league play. Harris had nine 20-point games this year and scored 36 in an upset of Duke. He shot 42.6 percent from 3-point range and only three times scored fewer than 10 points in a game.
Point guard Jontel Evans (5-11) was an all-ACC defender and ranks eighth in Virginia history in assists. Forward Akil Mitchell (6-8) averaged 13.3 points and 9.0 rebounds a game.
Sophomore guard/forward Paul Jesperson, who was recruited by Iowa, shoots 36.8 percent from 3-point range. Jesperson hails from Merrill, Wis.
Virginia coach Tony Bennett is the son of former Wisconsin coach Dick Bennett, who directed the Badgers to the 2000 Final Four. Tony Bennett was an assistant under his father and stayed with the Badgers under Bo Ryan until 2003 when he took over at Washington State. Bennett was named the AP Coach of the Year in 2007 after taking Washington State to a 26-8 record.
Bennett twice unsuccessfully tried to recruit Jarrod Uthoff. The first time Uthoff went to Wisconsin; the second he chose Iowa. Uthoff is sitting out this year after his transfer to Iowa.
The teams had two common opponents this year: Wisconsin and Virginia Tech. The Cavaliers won all three meetings, including a 60-54 road victory at Madison. Virginia held Wisconsin to 38.2 percent from the field, shot 45.7 percent and out-rebounded the Badgers 36-25.
Iowa lost its ACC-Big Ten Challenge game at Virginia Tech and split with the Badgers.
Both teams use up to 10 players with regularity per game. Virginia has 10 players who average at least 9 minutes, while Iowa has 10 average at least 10 minutes.
Iowa and Virginia were efficient on offense in their most recent NIT games. Virginia had 19 assists on 24 baskets against St. John's, including a 54.5 percent shooting performance. Iowa had 20 assists on 26 baskets and shot 47.3 percent against Stony Brook.
After his team's win against Stony Brook on Friday, senior Eric May said he was ready for the challenge, whether it was at home or on the road.
"We've been through the toughest test in the country through the Big Ten," May said. "We've shown we can play and how we good are. Right now it's (about) showing how tough we are and well we stick with it."
The schools have met only once - in the 1997 NCAA tournament - and Iowa won the first-round game 73-60 in Salt Lake City. Virginia won the NIT twice, 1980 and 1992. Iowa has played in six NITs and never advanced to the semifinals in New York.