Home / Sports / Iowa Hawkeyes
Four Downs -- The Quarterbacks (spring edition)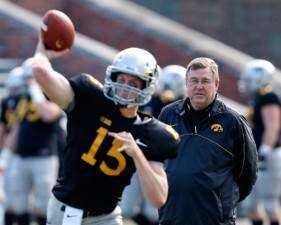 QUICK LOOK BACK: New offensive coordinator Greg Davis came to town and made a bear rug out of James Vandenberg's senior season.
OK, there was a bear rug, but a lot of people figured into seven total TD passes last season, including Vandenberg's read on Davis' newly installed passing system, an unsteady group of wide receivers and tight ends who didn't come alive until the final third of the season. The performance squeezed wide receivers coach Erik Campbell out of a job (it had to be part of it). It also moved head coach Kirk Ferentz to hire Bobby Kennedy, Davis' wide receiver coach from 2004 through 2010 at Texas.
The numbers were disgusting. Iowa finished in the national 100s in passing offense (187.4 yards a game), TD passes (seven), yards per attempt (5.8), pass efficiency (107.72) and in completion percent on third downs between 4 and 6 yards (45.7 percent, which, if you think about the lean toward short passes last season, kind of says it all).
Perhaps the most striking metric doesn't come with a number and has more to do with the overall aesthetics. What exactly where they trying to do in the passing game? The fact that there was no one finger to point should make you cringe going into '13.
Maybe it's as simple as Iowa isn't Texas. Ferentz recently referenced a postseason meeting with Davis.
"I think the one thing that was really clear, Greg has a much better feel for where we're at and who we are right now," Ferentz said.
FOURTH DOWN -- CONCERNS: There was a lot of static last season when James Vandenberg took every snap. Iowa was the only team in FBS to use one quarterback all season.
Several factors went into this. Iowa lost five of its eight games by a total of 16 points. The Hawkeyes fell apart in the other three. None of those are optimal times to insert a QB for his first college snaps.
The most disturbing conclusion is Iowa coaches didn't think they had a QB they could put in the game. That's disturbing because one of the three -- sophomore Jake Rudock, junior Cody Sokol and redshirt freshman C.J. Beathard -- will be the guy this year.
Would some junk throws in junk time of any game have meant much for a quarterback? Probably not. Vandenberg threw just eight passes in '10 before throwing for 25 TDs (tied for third in single-season touchdown passes) and 3,022 yards (ranks No. 4 all-time). Ricky Stanzi threw just four passes in '07 before guiding Iowa to a 9-4 record in '08. Drew Tate threw just 11 passes as a sophomore before a first-team all-Big Ten season while leading Iowa to a share of the '04 Big Ten title.
Brad Banks is the argument the other way. He threw 41 passes in '01 to set his feet for a 2002 season where he ended Heisman runner-up.
Everybody throws their first pass some time. Iowa will have three QBs do it next season. Where could that show up? In Ferentz's 15 seasons, QBs making their first starts at Iowa State's Jack Trice Stadium are 2-6, with Nathan Chandler ('03) and Stanzi ('09) claiming the lone victories.
THIRD DOWN -- ADDITIONS/SUBTRACTIONS: It can't be repeated enough, but the problems with the passing game last season were systemic. It wasn't one person, be that person quarterback, wide receiver/tight end or offensive coordinator. That's not meant to bury blame. All three of those categories took hits on any given play and sometimes all three on the same play.
There's no other reasonable hypothesis for Vandenberg going from one of the top five seasons ever for an Iowa QB to the fewest TD
passes for an Iowa starter since 1999. That's not saying Vandenberg, a sterling example of student-athlete, gentleman and guy you'd want to hang out with, wasn't without his flaws.
His draft profile on NFL.com lists his weaknesses. You're probably going to recognize a few of these:
Does not always set footwork, even on three step drops. Lacks composure to work through progressions, appears to lock on to a receiver and overthrows if they do not separate. Gets happy feet when that first read is not there, attempts to reset but those throws are consistently poor. Placement is not good despite consistent motion. Rarely puts touch on his passes, makes one-speed throws. Ducks when facing interior pressure at the release point. Tends to sail outside breaking routes rather than leading receiver.
Vandenberg's NFL viability could move this argument one way or the other. He probably doesn't get drafted, but he likely will get a shot to win a No. 3 spot in a camp.
Yes, John Wienke became the pooch punter and not the backup QB. Still, he went into Iowa football with sights on someday being a coach and he soaked it all in. He did know Davis' system and that will be missed. One thing you have to say is Iowa did get plays into the game more efficiently last season.
Beathard comes online this fall. He's a natural talent with a strong arm. He's also maybe 185 pounds. Beathard led state of Tennessee in passing yards, completions and touchdowns as a junior and senior. He won a "team leader" award at the team banquet. Read into that what you will.
Sokol now has two years to play two years, so he's in. Sokol is currently listed at 6-2, 205. Don't be surprised if his weight is 215 or more. He's pretty well put together. He had seven offers coming out of Scottsdale Community College, including Arizona and Maryland. Sokol threw for 3,807 yards, 43 touchdowns and 10 interceptions as a sophomore in 2011 for the Fighting Artichokes.
Incoming freshman Nic Shimonek (6-4, 205) likely will redshirt. Last season at Mildred (Texas) High School, he completed 176 of 279 (63.1 percent) for 2,718 yards and 35 touchdowns with 6 interceptions. He also had 811 yards rushing and 16 touchdowns on the ground in leading Mildred to a 13-2 record and an appearance in the Class 2A Division II state championship game at Cowboys Stadium.
SECOND DOWN -- BATTLES BREWING: They don't know who the QB will be. That's the honest consensus gathered from a few sources around the program. The 2013 QB is totally up for grabs and the wildcard might be how the winner moves when it's time to run.
The whole Davis system is based on quick decisions. After sifting through the variables of down and distance, Vandenberg said last fall that he was coached to edit out options in pre-snap.
"Coach Davis always talks about eliminating as many things at the line of scrimmage as possible," Vandenberg said in this post. "You want to rule out all the places you can't go. In the quick [passing] game, you rule out 95 percent of it and you're playing something that you're pretty sure is going to happen and if it doesn't, the ball has to come down."
Quick decisions, ball has to come down. Of course, the ball coming down means taking off and running, thus the Iowa QB of the future will need to take off and run. We're not talking zone read, RGIII or Colin Kaepernick, but 4 yards here or 3 yards there would help move the chains.
When Davis was asked if Vandenberg was "locking on" to targets, he said, "The first thing that quarterbacks are taught to do is where are my protection problems because there's always an opportunity for them to be in a protection situation, so that's where everything starts. And then after that, there are various kinds of reads, whether or not we're full-field reading based on rotation or whether or not we're in a progression kind of read. I haven't felt like James was locking onto someone through the first five ballgames.
"The one thing that happens with a guy like James is that he does so much study during the course of the week, a lot of times he's getting a pre-snap tip as to what he feels like the defense is going to do, and that pre-snap tip will, in some cases, eliminate progressions, so a lot of times he gets through his progressions pretty quickly."
Going into the second season under Davis' system for all three QB candidates, lack of knowledge can't be an excuse. Knowledge of the system and mobility might be the first steps in slotting the three.
FIRST DOWN -- WHAT COULD HAPPEN: Iowa coaches don't know who the starter is right now. Let's run through a few of the bits of info that have dropped here and there:
-- Rudock (6-3, 200) moves better than you might think. Again, we're not talking zone read kind of moves, but he pull it down and run. He should have the best working knowledge of the system. He was, after all, the No. 2 last season. What he learned will matter for him this year.
-- Rudock is pre-med, a whip-smart student. He also modified his major last year.
-- Sokol is the strongest of the three and has the most mature body. I'm not sure how well he moves with the ball. I haven't heard anything in that area. He believes his arm and isn't afraid to make mistakes, but that ended up in a few practice interceptions. That's a fixable between now and August.
-- Beathard might have the most raw talent. Vandenberg said this after Iowa's season finale. In fact, here's that breakdown: "I think Jake has kind of been groomed, very talented," Vandenberg said. "You've got Cody, a juco who is the oldest and most mature guy in that room but who's only been with us for a semester and a half now. And then C.J., who really has no idea what he's doing yet, but you can see his natural talent. He can really throw the ball." Beathard got the coaches' attention last fall with a strong arm and excellent accuracy. Forget the 29-inch waist (I'm sure it's thicker, but he is thin). Beathard has the arm to be in and maybe lead this race.
Quick decision making, knowledge of the system, mobility, accuracy. Throw leadership in somewhere, but tangible abilities probably trump intangibles when you were 4-8 last season and you have six months to find a starting QB.