Home / Sports / Iowa Hawkeyes
Shooting slump frustrates Iowa's Josh Oglesby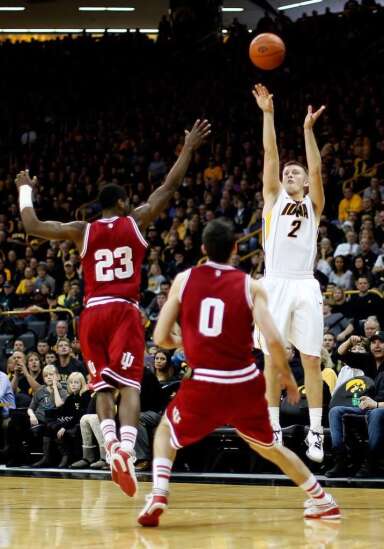 IOWA CITY - Josh Oglesby has put in the extra time necessary to shoot himself out of his slump, from an extra 300 shots before practice to individual workouts off the clock in the practice gym.
Yet the shots aren't falling for the Iowa sophomore, which is bewildering to his coach and frustrating to himself.
"He makes every shot in practice," Iowa coach Fran McCaffery said. "Every one. Makes them all. You know, it's a little bit different when they are guarding you the way teams have guarded him. He gets it a little bit harder."
Oglesby, a Cedar Rapids Washington graduate, has struggled in Big Ten play, making just 6-of-26 3-point shots. He's shooting 25 percent (9 of 36) overall, which has been discouraging.
"I don't think I've ever had a slump this bad," Oglesby said. "It's just really frustrating. I haven't shot the ball well and people are saying I'm known as a shooter and stuff. It's hard when you're not making shots, but I've got to stay confident and be patient because I'm working hard. I'm getting extra shots up and hopefully things will come."
As a freshman Oglesby hit 45 3-pointers last year at a 37.2 percent clip. This year he has 23 3-pointers in 83 shots, a 27.7 percentage.
With the recent slump Oglesby admits he's overthinking on the court, which leads him to aim his shots.
"You're thinking, 'I've got to make some shots,' because you haven't made any lately," he said. "You're thinking about it a lot. I feel like once I make a couple things will start to come."
Oglesby has compensated for his shooting woes with improved defense and ballhandling. He has only 13 turnovers in 20 games with just four in Big Ten play. Although he has a reputation as a talented perimeter shooter, he doesn't take shots just because he has a permanent green light.
"It's not in his nature to be a pig," McCaffery said. "You know, you try to encourage him to play with a little more reckless abandon that way.  Just, fine, you're out there to fire, then fire.
"But the reality is he doesn't view himself that way, and there's a fine line there because when it's all said and done, I want him to be a basketball player. He's really good at feeding the post. He can pass it extremely well. When he gets in the zone, he probably hurts the other team more with his passing than he does his shooting. He's phenomenal. So we'll just stick with him."