Better flu vaccine on the horizon at State Hygienic Lab
Diane Heldt
Jan. 28, 2013 5:30 am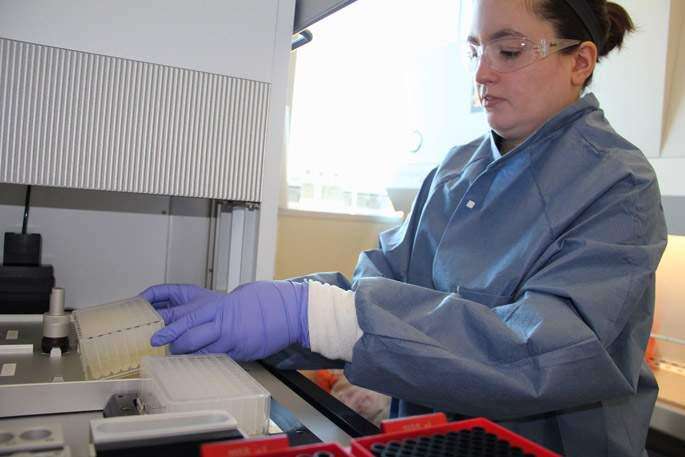 CORALVILLE -- The State Hygienic Laboratory during this busy flu season has tested hundreds more cases compared to last year, but one official believes improved, more effective flu vaccines will soon be a reality, leading to more protected people and fewer transmissions of the virus.
Many people recognize that a better influenza vaccine is needed, and great progress is being made in vaccine development, said Michael Pentella, associate director of the State Hygienic Lab at the University of Iowa and head of the Disease Control Division. The possibility of a better vaccine -- and perhaps a "universal" vaccine that a person would only have to get every 10 years or so -- is a promising idea that he believes would lead to more people getting vaccinated, Pentella said.
"The more people who are protected, the less transmission the virus will have every year," he said. "If they had a vaccine that covered all of these strains, regardless of how good influenza has been at changing itself, it would certainly help us, so we wouldn't have to go through this every year."
The research focus on finding a better vaccine also draws attention to how important it is to get vaccinated, he said. The State Hygienic Lab is involved in testing and detection of flu strains in Iowa communities. That information is sent to the Centers for Disease Control so officials there can use it to predict what needs to be in the flu vaccine for next year, Pentella said.
The State Hygienic Lab in December 2012 tested 1,010 cases for influenza, compared to 118 cases in December 2011, he said.
The University of Iowa Hospitals and Clinics is involved with testing new vaccines, as one of four hospitals nationwide conducting a clinical trial to test a new vaccine for the H3N2 Variant flu virus.