Home / News / Crime and Courts
Effort to ban red-light cameras in City draws ACLU support
Gregg Hennigan
Oct. 5, 2012 2:32 pm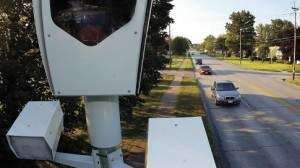 Two Iowa City residents are making a third attempt to essentially ban red-light cameras in Iowa City, and this time they have the backing of the American Civil Liberties Union of Iowa.
Aleksey Gurtovoy and Martha Hampel on Friday filed an affidavit to start an initiative that ultimately could let voters decide whether the controversial traffic-enforcement cameras can go up. At the same time, the ACLU submitted to the City Council a legal argument in support of the pair's effort.
Iowa City does not yet have cameras installed, but the City Council earlier this year approved an ordinance allowing them, and city staffers are in the process of working out the details to get the cameras up.
Gurtovoy and Hampel twice this past summer filed what they considered affidavits for an initiative, but each time City Attorney Eleanor Dilkes said the wording made it a referendum.
The difference matters.
READ: Letter from the ACLU (story continues below embed)
An initiative proposes a measure for the City Council's consideration.
A referendum requires the council to reconsider an existing measure, and the city charter says a referendum petition must be filed within 60 days of the final adoption of the measure, or more than two years after adoption. The City Council approved the camera ordinance in February.
In both an initiative and a referendum, if the council does not take the requested action, the proposal goes to the public for a vote.
The ACLU, in a letter to the City Council Friday, argued that Gurtovoy and Hampel are seeking an initiative and cites sections of the city charter and court cases.
Gurtovoy's and Hampel's effort actually goes beyond red-light cameras. They propose a new city ordinance that would ban the use of any traffic surveillance system or device unless it is being used by a police officer and that officer writes the ticket for a violation. That would include restricting traffic-enforcement cameras, drones and automatic license-plate recognition systems.
The appeal of traffic-enforcement cameras for cities is that police officers do not need to be stationed at them, so the proposed ordinance presumably would discourage their use.
With a valid affidavit, it would still take the signatures of at least 2,500 registered voters to require the council to act.
Dilkes told the ACLU on Friday that because the affidavit had been filed, the city charter gave Gurtovoy and Hampel six months to collect signatures.
The ACLU sent out a second news release saying their clients "will be allowed to proceed with an initiative."
In an interview, however, Dilkes said she had not changed her mind on the initiative-referendum question. She said she simply wanted to tell the ACLU the clock had started ticking on collecting signatures.
Dilkes said she needs more time to review the ACLU's letter and for now her previous opinions on the matter stand.