Home / Living / Health & Wellness
Increased participation sought for Walk to School Day in Iowa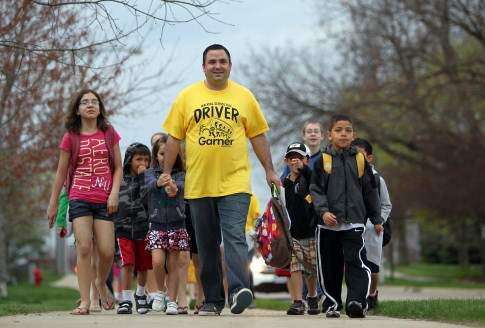 CEDAR RAPIDS – Health advocates are hoping to increase participation in National Walk to School Day next week.
The event, set for Wednesday, Oct. 3, had 72 participating schools statewide last year.
"We would like to increase participation this year to over 100 Iowa schools," said John Phipps, program director for the Iowa Bicycle Coalition.
Phipps said he would particularly like to see more participation from Cedar Rapids-area schools.
The walk is the same day as Iowa's Healthiest State Walk, held as part of the Healthiest State Initiative, an effort to make Iowa the healthiest state by 2016.
In 1969, 41 percent of students walked or biked to school; by 2001, only 13 percent of students did so, according to the U.S. Centers for Disease Control and Prevention.
Iowa Department of Public Health officials noted that walking to school enables children to incorporate regular physical activity into each day, helping them to build strong bones, muscles and joints and to decrease the risk of obesity.
A combination of factors contributed to the decline in children walking to school, said the department's research analyst, Catherine Lillehoj.
"Social and environmental factors all affect the likelihood of a child walking or biking to school," Lillehoj said in a press release. "School locations lead to greater distances to walk, and increased traffic and potential crime increase the danger of getting to school."
A department survey found 48 percent of parents said they were greatly worried about the amount and speed of traffic near school and 46 percent were concerned about safety near intersections.
This fall, 12 more communities are joining a program implemented in 16 Iowa communities, called the Iowans Walking Assessment Logistics Kit or I-WALK, an Iowa walkability program administered by the health department and Iowa State University Extension and Outreach.
I-WALK uses web-mapping developed at ISU and a smartphone's Global Positioning System (GPS) to map the environment along the routes children use to walk or bicycle to school.
Using the GPS information from the survey, a safe and barrier-free walking route can be identified for residents.
For more about I-WALK, visit
www.i-walk.org. To learn more about Walk to School Day, see