Home / Sports / Iowa Hawkeyes
Iowa Notebook: Defense 'played terrible'
N/A
Sep. 11, 2012 4:32 pm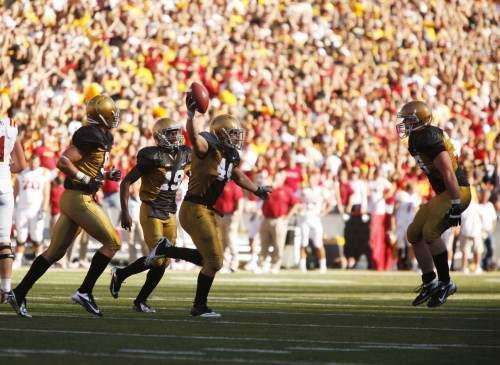 IOWA CITY -- Jake Knott tipped Iowa quarterback James Vandenberg's late fourth quarter pass and as it fell down into the linebacker's hands, it might as well brought the sky down with it. A 9-6 loss to Iowa State last Saturday brought a 48 hour back lash from fans and media alike questioning the team's quarterback, wide receivers, offensive coordinator, and on and on.
The side of the ball that seemed to avoid repercussions from the loss was the defense. It allowed nine points, and 26 in the first two games, good for a 13.0 points per game average. That production placed the Iowa defense 18th in the nation among teams who played more than once.
The laundry list of criticisms for the Hawkeye offense is nearly matched with a defensive accomplishment:14th in pass defense, 26th in passing efficiency, tied for 19th in turnovers gained (5) and 22nd in scoring among team who have played more than once.
But senior defensive back and captain, Micah Hyde wasn't impressed Tuesday.
"We didn't play up to how we think we should have," Hyde said. "And yeah, we only gave up under 10 points last game but we played, I think everyone on the defense would say we played terrible."
Hyde's main criticism was the defense's tendency to give up long drives. Through the first two games of the season, the Hawkeyes allowed six drives of nine players or longer.
But when it's mattered most, the defense has played its best. Five of those six drives came in the first half. The longest second-half drive the Hawkeyes surrendered vs. Northern Illinois was six plays, that went for 12 yards.
Against Iowa State, the defense allowed a nine play drive in the second half but it was stopped when James Morris picked off Steele Jantz's pass inside the 10. Other than that, the most plays the Cyclones strung together in the second half was five. Iowa State did it twice, the first ending with a fumble, the second gained 18 yards before ISU punted.
"Guys get the feel of a game, you hope they learn as they go along and things slow down a little bit for them mentally," Iowa head coach Kirk Ferentz said. "I think we have seen that the last couple weeks. So, you know, that's encouraging."
Against Northern Iowa, the defense looks to put two halves together.
"The long drives against us, you don't want to give that up," Hyde said. "We definitely had some chances to get off the field, we didn't capitalize on it, but I think that's the big thing we can work on is giving up long drives."
Not surprised 
Defensive end Riley McMinn heard it on the field.
"We were all playing the game (against Northern Illinois)," McMinn said. "But when the score came over, they announced it over the loud speaker, I think everybody's ears perked up just a little bit."
Offensive lineman James Ferentz was on the bus.
"On the ride home we start to catch up on all the scores through the day," Ferentz said. "I can't say that I was really surprised. Northern Iowa, they're a good football team."
And wide out Kevonte Martin-Manley saw it later that night.
"I think I found out the score, maybe later that night after our game," Martin-Manley said. "My reaction, anyone can lose to anyone in Division I football. It's very competitive."
The game each Hawkeye was referring to was the scare Northern Iowa put into Wisconsin in its 26-21 loss on Sept. 1. Late in the fourth, the Panthers were driving with a chance to win but quarterback Sawyer Kollmorgen's fourth down pass fell incomplete and the Badgers held on.
It was another near-miss for UNI vs. a Big Ten team. In 2009, the Panthers came into Kinnick Stadium and it took back-to-back blocked field goals from Iowa to hold on for the win.
"That's the big thing with college football, teams are ranked high and things like that," Martin-Manley said. "Sportscenter will put guys out there and things like that. At the end of the day you've got to line up and play football against whoever you're going up against, whether it's the lowest ranked team or the highest ranked team, you still have to play hard."
Positive reaction
Growing up in Iowa, James Ferentz and Keenan Davis knew fans and players on Iowa State as well as players on their upcoming opponent Northern Iowa.
After the 9-6 loss against Iowa State, both were greeted with text messages when they went to their phones. When they were opened, they were nothing but well wishes.
"Most people I talked to were really kind of sorry for us, or just being good about. Good thoughts and telling us good things," Davis said. "But I really try not to focus on the outside."
"I got a few text messages from a few friends that said 'Sorry to hear about the loss,'" Ferentz said. "But you know we lost to a good football team. The better team Saturday won."
Not so Big
Just five Big Ten teams can boast a '0' in its loss column after last week. One of them, Indiana, lost its starting quarterback for 5-6 months with a broken leg.
For a few of the teams that lost: Iowa lost to in-state rival, Wisconsin fell to unranked Oregon State, Illinois lost by 31 to Arizona State, and Nebraska loss to a team from Los Angeles not named USC.
"We're worried about our team right now," Kirk Ferentz said. "That's all I'm worried about.
While the players shared mostly the same sentiment, the recent mediocrity won't deter some Hawkeyes from having pride in their conference.
"It  just (goes) over the head. Everyone has their own bias for their conferences," McMinn said. "I believe the Big Ten is one of the top ones out there."