Report: Iowa still second in wind energy production
George Ford
Aug. 15, 2012 7:56 am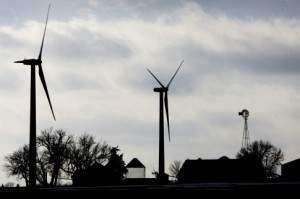 Iowa is still No. 2 after Texas in the percentage of electricity generated by wind power, according to a new federal report issued Tuesday by the U.S. Department of Energy.
Last year, Iowa installed 647 megawatts  of new wind power capacity, bringing its total to over 4,300 megawatts, or enough to power about a million homes. With the installed capacity, Iowa is able generate about 20 percent of its electricity from wind energy.
Texas ended 2011 with 10,394 megawatts of installed wind capacity after adding 297 megawatts during the year. California added 921 megawatts of new wind capacity in 2011, the most of any state.
The latest figures come as the pending expiration Dec. 31 of a critical tax credit for the wind industry has become a presidential campaign issue in Iowa. President Barack Obama supports extending the production tax credit and Mitt Romney, presumptive Republican presidential nominee, opposes renewal of the credit.
Wind energy represented 32 percent of all new electric capacity additions in the United States last year and accounting for $14 billion in new investment. Wind power capacity reached 47,000 megawatts by the end of 2011 and has since grown to 50,000 megawatts, enough electricity to power 13 million homes annually.
Iowa is home to wind turbine assembly plants in Cedar Rapids and West Branch as well as a tower manufacturer in Newton and blade manufacturer in Fort Madison. Nearly 70 percent of the equipment installed at U.S. wind farms last year,  including wind turbines and components,  is produced by domestic manufacturers, doubling from 35 percent in 2005.
Joe Baker, president of ACCIONA Windpower in West Branch, has said that no orders have been received for U.S. wind farm installations in 2013 due to the uncertainty over extension of the production tax credit. The West Branch plant as well as the Clipper Windpower plant in Cedar Rapids will be directly affected if Congress fails to take action to extend the credit, which brings the price of wind-generated electricity closer to the cost of that produced from coal or natural gas.
The wind industry projects that 37,000 jobs could be lost if the production tax credit expires.  In Iowa, the wind power industry supported 4,000 to 5,000 direct and indirect jobs in 2010.