Home / Chick-Fil-A supporters turn out in force at Westdale restaurant
Chick-Fil-A supporters turn out in force at Westdale restaurant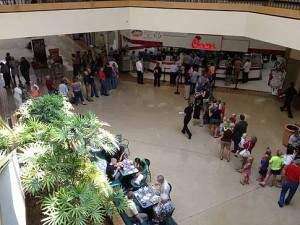 Supporters of Chick-fil-A are eating at restaurants in the chicken chain in droves Wednesday, as the company continues to be criticized for an executive's comments about gay marriage.
Former Arkansas Gov. Mike Huckabee, a Baptist minister, declared Wednesday national "Chick-fil-A Appreciation Day," drawing supporters at the chain's restaurants around the country Wednesday, including the store at Westdale Mall in Cedar Rapids, where hundreds of people reportedly showed up for lunch.
Chick-fil-A president Dan Cathy told the Baptist Press last month that the Atlanta-based company was "guilty as charged" for backing "the biblical definition of a family." That unleashed a torrent of criticism from gay rights groups and others, who have called for boycotts and efforts to block the chain from opening new stores.
Opponents of the company's stance are planning "Kiss Mor Chiks" for Friday, when they are encouraging people of the same sex to show up at Chick-fil-A restaurants around the country and kiss each other.