Home / Sports / Hawkeye Sports
'Several' commits come in, now it's 15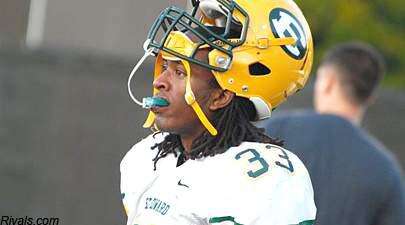 Iowa enjoyed a recruiting push on Friday with a pair of commitments. When it happened, offensive line coach Brian Ferentz tweeted Iowa had "several" commitments.
As of 10 p.m. Sunday, Iowa has several commitments, seven in the last nine days to be exact.
After Cedar Falls athlete Ike Boettger committed Sunday afternoon, Des Moines Lincoln linebacker Trevon Young and St. Edwards (Cleveland, Ohio) High School safety Solomon Warfield added their names, boosting Iowa's list of commitments to 15 with one week left in June.
Young told HawkeyeReport.com about his commitment. Warfield tweeted that he called Iowa head coach Kirk Ferentz and let him know he was a Hawkeye.
Young earned all-Central Iowa Metro League honors last season after making 61 tackles. Iowa coaches believe the 6-4, 220-pounder eventually will become a defensive end.
"They said they're going to start me out at linebacker, but they see me probably growing into a defensive end," Young told HawkeyeReport.com. "I feel like I can play either position, so whatever they develop me into, that's what I'll play."
Young also had offers from Iowa State and South Dakota State.
Warfield is a 6-0, 170-pound safety who had 19 offers, including Michigan State, Penn State and Arizona State. Warfield is the third Ohio prep to give a "yes" to the Hawkeyes. Brian Ferentz, in his first year on the staff after moving over from the New England Patriots in February, recruits Ohio for Iowa.
"I talked to coach Kirk Ferentz first and then I talked coach Brian Ferentz and [secondary] coach [Darrell] Wilson," Warfield told HawkeyeReport.com. "I just told them that I felt really comfortable there when I came down to visit and I really like their program, so that's where I want to go to next year. They were really excited."
Scholarship math is always somewhat shadowy. Iowa doesn't announce when it gives walk-ons scholarships, but 15 might put Iowa at the 85 limit for the 2013 season.
According to Rivals.com recruiting rankings, Iowa's 2013 recruiting class is now No. 26 in the national team rankings. In the Big Ten, only Michigan has more commitments with 22, Rivals' No. 1 class in the country. Eight schools have more commitments than Iowa at this point. The Hawkeyes are tied with Texas for ninth in the country.
David Kenney, DE, 6-2, 250 Pike High School (Indianapolis, Ind.) ****
Derrick Willies, WR, 6-3, 190 Rock Island (Ill.) High School ***
Delano Hill, FS, 6-1, 190 Cass Tech High School (Detroit, Mich.) ***
Colin Goebel, OL 6-4, 275 Naperville (Ill.) North High School ***
Nathan Bazata, DT, 6-2, 270 Howells (Neb.) High School ***
Brant Gressel, DT, 6-2, 283 Centerville (Ohio) High School ***
John Kenny, LB, 6-2, 210 Caramel (Ind.) High School ***
Nic Shimonek, QB, 6-4, 205 Mildred (Corsicana, Texas) High School ***
Malik Rucker, CB, 6-0, 175 Cooper (New Hope, Minn.) High School ***
Derrick Mitchell, Jr., WR, 6-0, 185 Vashon (St. Louis, Mo.) High School ***
Andre Harris, WR, 6-1, 170 Kirkwood (Mo.) High School (unrated by Rivals.com)
Sean Welsh, OL, 6-3, 275 Springboro (Ohio) High School ***
Ike Boettger, TE, 6-5, 220 Cedar Falls High School (unrated by Rivals.com)
Trevon Young, DE, 6-4, 220 Lincoln (Des Moines) High School (unrated by Rivals.com)
Solomon Warfield, 6-0, 170 St. Edwards (Cleveland, Ohio) ***
* = Rivals.com's star rating