Firsthand accounts disappear as Holocaust survivors die
Steve Gravelle
Apr. 17, 2012 7:20 pm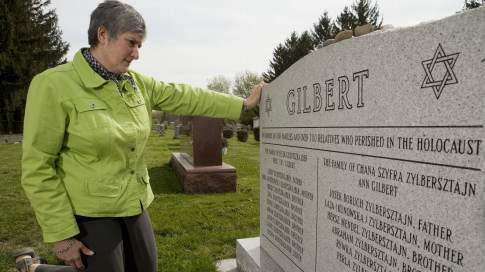 As a generation passes, memory becomes history: The last authenticated Civil War veteran, a former Union drummer boy, died in 1956. The last American World War I veteran died in February, and the Department of Veterans Affairs says 740 American World War II veterans die every day - there's something fewer than 1.7 million still living.
"It's one thing for me to talk about the Holocaust," said Lena Gilbert. "It's another thing for my father to sit there and roll up the sleeve and show the tattoo on his arm that he was given at Auschwitz. I just can't be that effective as a speaker."
Gilbert, 53, of Springville, talks about the Holocaust because her parents aren't around to do it. Meanwhile, historians race against time to record the experiences of a dwindling number of survivors.
The loss of firsthand witnesses affects not only the observance of Thursday''s Yom Hashoah, or Holocaust Remembrance Day. It also will affect the way the Holocaust is thought about and how its story is told.
"We know what we're facing," said Stephen Gaies, director of the University of Northern Iowa's Center for Holocaust and Genocide Education. "We are the last generation to have that face-to-face contact with the Holocaust survivors."
"It's something that we Holocaust educators and scholars do talk a lot about," said University of Iowa history professor Elizabeth Heineman. "Holocaust survivors have been tremendously important in telling their stories, and now there's also that sense of urgency. The very last survivors will probably be dying in the next 10 or 20 years."
In 2003, the Israeli government estimated there were just fewer than 688,000 Holocaust survivors worldwide, just fewer than 110,000 of them in the United States. Gaies estimates 2,000 survivors died in the United States last year, and the worldwide population of survivors is probably down to about a half a million.
That's by what Gaies terms the most inclusive definition of Holocaust survivor: "everyone whose life was directly affected by the rise of the Nazi party," including those who fled Germany in the 1930s.
Fred and Ann Gilbert weren't so fortunate. The Polish Jews - Fred from Warsaw, Ann from the smaller town of Szydlowiec to the south were caught in the Nazi pogroms and sent with their families to the camps. They met the day the Dachau camp was liberated in April 1945. The camp was segregated by gender, and Fred Gilbert had gone to the women's section in a vain attempt to find his sister. There he met Ann, who was looking, also in vain, for her own family members.
They married in 1946 and came to Cedar Rapids three years later, after the birth of Lena's older brother Jack Gilbert. The family was one of several sponsored by Temple Judah.
"My folks were one of the few that really chose to make Cedar Rapids their home," Gilbert said. "The other families all left within a short time."
Fred Gilbert worked 38 years for a Cedar Rapids steel fabrication company, retiring in the 1980s as the firm's general manager. Ann Gilbert was "the consummate homemaker" who took in sewing and alteration work, her daughter said.
Tentatively at first, the Gilberts began talking about their experiences in the 1960s.
"It took several years for them to be comfortable with public speaking, but once they made the commitment to become public speakers, they spoke out with a lot of devotion and passion," Gilbert said.
"The survivors have been very generous in sharing their stories," said Heineman. "So many of them have given video testimony, and we don't have that for any other event. Compared to a lot of other events, we've actually done a really good job capturing those sources."
The Gilberts retired in the 1980s and moved to the Los Angeles area, where they participated in the Simon Wiesenthal Center's outreach programs, Lena Gilbert said.
The couple later returned to Cedar Rapids, wehere Ann Gilbert died at 84 in December 2008. Fred Gilbert, 90, died three months later. They're buried in Eben Israel Cemetery in southwest Cedar Rapids, where the reverse side of their headstone bears the names of family members lost to the Holocaust.
"There's not a day goes by that I don't think of my parents," said Lena Gilbert. "If my mother was here, she would say people should follow their heart, and not a bad leader. Don't be a follower just for the sake of being a follower, because that's what led to the demise of 6 million Jews and 3 million others."
[naviga:ul]
[naviga:li]
Holocaust speaker Miriam Kelemen Solis will speal at 7 p.m. today in Chapel of Mercy, Busse Center, at Mount Mercy University in Cedar Rapids and at 3:30 p.m. Thursday in Hickok Hall at Coe College in Cedar Rapids.[/naviga:li]
[naviga:li]
Community Holocaust Rememberance service at
Temple Judah, 3221 Lindsay Lane NE, Cedar Rapids: 7 p.m. Wednesday.[/naviga:li]
[naviga:li]
 Hillel House, 122 E. Market St., Iowa City, opens its annual 24-hour vigil and reading of the names of Holocaust victims with a brief memorial ceremony 8 p.m. Wednesday.[/naviga:li]
[naviga:li]
Holocaust Remembrance Ceremony in the Cedar Valley, 7 p.m. Thursday at
Grout Museum of History & Science 503 South St., Waterloo. Organized by the Center for Holocaust and Genocide Education at the University of Northern Iowa, featuring guest speaker Inge Auerbacher, survivor of Terezín (Theresienstadt) Concentration Camp, author of several books on the Holocaust.[/naviga:li]
[naviga:li]
Agudas Achim congregation, 602 E. Washington St., Iowa City: the movie "Inside Hana's Suitcase," 7 p.m. Thursday and 1 p.m. Sunday. Commemoration concert 3 p.m. Sunday. An exhibit, Children's Artwork and Writings from the Camps, is on display in the synagogue foyer through April 25.[/naviga:li][/naviga:ul]