Home / Sports / Hawkeye Sports
Now healthy, former Hawkeye Mike Daniels prepares for next level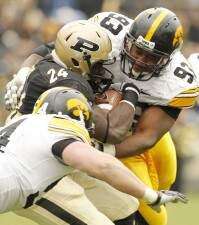 INDIANAPOLIS - Defensive tackle Mike Daniels is bigger and says he is faster. And making the most difference to his NFL prospects, he says is healthier than he was last season at Iowa.
Daniels fought through two sprained ankles and a torn labrum in his shoulder during the 2011. The injuries nagged and frustrated him.
"I found my senior year to be very mediocre because I could have achieved much more," Daniels said Saturday at the NFL Scouting Combine at Lucas Oil Stadium. "Having those two sprained ankles really messed with my head and it affected my performances, and I swear I will never let that happen again."
Daniels pushed through the medical issues - which resulted in offseason shoulder surgery - and played his three best games at the end of the season. He recorded a career-high nine tackles - including five for loss - and three sacks in a win against Purdue. He matched his career best with nine tackles against Nebraska in the season finale.
Daniels ended the season with perhaps his best performance with three tackles for loss and two sacks against Oklahoma in the Insight Bowl. He hopes those efforts leave a lasting impression with NFL scouts.
"I think the Oklahoma game speaks for itself, that Purdue game and Nebraska game," Daniels said. "Those last few games shown that I've come along with my healing process and definitely playing how I should have been playing all season."
Daniels, who was measured at 6 feet, weighed in here at 291 pounds, about 10 more than his playing weight last season. As of Saturday he had met with all but about six NFL teams. Although Daniels is best suited to play tackle in a 4-3, he said he met with team officials from 3-4 fronts. Many projections have Daniels in the third-to-fourth round range.
He said most of the questions were about how he processed Iowa's defensive schemes and why the teams should pick him up. Daniels said he wanted to sell himself as a quick learner and tout his willingness to improve both physically and mentally.
"I want to prove there's more to me than what I do than just I running, jumping, bench press and what I can do on the field," Daniels said. "I want my personality and my character to flourish. 
"If you want something bad enough, then you'll be more than prepared for it."