Home / News / Government & Politics
Branstad not afraid of 'ambitious' goals for fifth term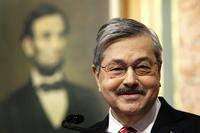 After 17 years as Iowa's chief executive officer, Terry Branstad hasn't lost any of the optimism he brought to the governor's office in 1983.
"I have only one speed: overdrive," says Branstad, "and we're just getting geared up. I believe it's going to be better next year than this year and we're off to a fast start."
A year after starting his fifth term, Branstad believes his administration is making measurable progress toward achieving four goals he set when he returned to office after 12 years in the private sector:
[naviga:ul]
[naviga:li]Create 200,000 jobs[/naviga:li]
[naviga:li]Raise family incomes 25 percent[/naviga:li]
[naviga:li]Make Iowa No. 1 in education again[/naviga:li]
[naviga:li]Reduce the cost of government 15 percent[/naviga:li]
[/naviga:ul]
"We think the goals are realistic. We know it's ambitious," Branstad says. "I think it's important to set ambitious goals and stay focused on them. We're not afraid of the goals."
Some of the progress is obvious, the Boone County Republican says. Unemployment has fallen from more than 6 percent to 5.7 percent.
"Instead of 106,000 unemployed Iowans we're under 100,000 unemployed," he says, "so I think we're going in the right direction."
He doesn't claim all the credit for that, but said a comparison of the 12 years of Democratic control of the governor's office to the first 10 months of his administration shows his is "running at a pace about five times as fast" as previous administration in terms of net job gains.
Net job growth during the first 10 months of his administration was 11,600, Branstad says. Between 1998 and 2010 – the years between Branstad's fourth and fifth terms – net job growth was 26,400, his office says.
Lifting family income goes hand-in-glove with his job goal. His proposals to develop supply-chain clusters around "anchor" manufacturers like John Deere or Rockwell will help attract high-quality jobs, Branstad says.
Attracting those high-quality jobs depends, in part, on Branstad's call for a transition to competency-based learning "that personalizes education for each child, and begins the process of moving us away from the time-based industrial model of education."
The governor, who held an education summit last summer that attracted national education leaders, says Iowans quit resting on it historic leadership in education.
"We're in a state where people have this innate 'if it ain't broke, don't fix it' attitude," Branstad says. "But in last 20 years we've been stagnant while others have improved. "We need to get over this complacency."
Finally, Branstad points to the $6.244 general fund budget he delivered to the Legislature last week as evidence of progress toward reducing the size and cost of government. That's a $230 million increase, but Branstad says the 3.8 percent boost addresses his priorities in education, human services and economic development.
"We've changed the trajectory and we're well on our way to making a 15 percent reduction from where government was going when I was elected," Branstad says. He cut the size of his staff by 25 percent and most of his agencies are living on status quo budgets while absorbing pay hikes for union employees agreed to by his Democratic predecessor.
He's also calling for commercial property tax relief and changes that will prevent what he said could be a $2 billion increase in residential property taxes over eight years. Branstad is supporting legislative Republicans' for limiting local government spending authority by limiting tax increases to no more than 2 percent per year without voter approval.
Branstad minimizes neither the amount nor difficulty of the work to be done  to meet his five-year goals in a four-year term of office, leaving open the possibility of a sixth term.
"Time will tell," he chuckles.