Home / Sports / Iowa Hawkeyes
Steps in the dance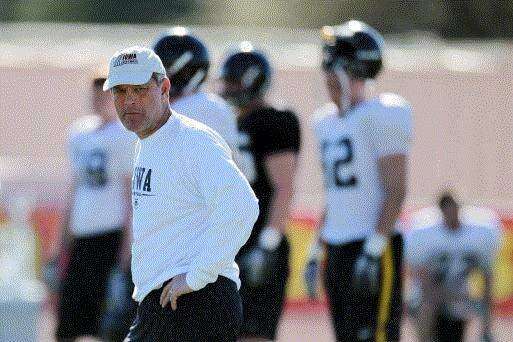 TEMPE, Ariz. -- The season of one step forward, one step back and three steps somewhere comes to an end Friday in the desert.
This was a season without a GPS for the Iowa Hawkeyes, who sit at 7-5 going into their Insight Bowl matchup with No. 19 Oklahoma (9-3). They went around in circles. They had some struggles, dropping gut wrenchers to Iowa State (triple OT) and Minnesota (?). They had some triumphs, beating Michigan and Denard Robinson and scratching the itch that is Northwestern.
After all that, here they are, the Insight Bowl. This is where it all began, ostensibly, for 2011. The Hawkeyes toppled No. 12 Missouri with a sophomore cornerback and true freshman running back earning the MVP awards.
Cornerback Micah Hyde is here. Running back Marcus Coker is suspended.
One step forward, one step back.
The Hawkeyes were a team in 2011 that lost by one point at Minnesota, the No. 11 team in the Big Ten, and turned around the next week and knocked off No. 13 Michigan, essentially ending the Wolverines' division title bid.
Iowa coach Kirk Ferentz was asked if that sequence explained the Hawkeyes' 2011.
"Yes and no," he said.
In an odd way, that makes sense for Iowa '11.
Let's go through this dance and try to figure out what steps went where.
Marvin McNutt's Wild Ride
Marvin McNutt is a reason to tune in Friday night.
The senior from St. Louis needs eight receptions to set every record you can think of for Iowa wide receivers. Going into the game, he has 78 receptions for a record 1,269 yards and a record 12 TDs. He owns the career yardage and TD records. The receptions are still out there. With Coker and his 1,384 yards and 15 TDs out, Iowa needs everything it can get out of McNutt.
McNutt's story becomes even bigger when you consider where he started. McNutt has claimed these records in three seasons of production. He spent 2008 as a lanky quarterback. He was tapped on the shoulder and pointed toward wide receiver. He followed the lead of receivers coach Erik Campbell and here he is.
Best Iowa wide receiver ever.
Three OT defeat, greatest comeback ever
The Minnesota-Michigan consecutive weeks stand out, but if you go back to the beginning of 2011, you'll see two weeks that punctuate the "yes and no" even more.
Iowa State quarterback Steele Jantz might not have finished the season for the Cyclones, but he sure got it started with a bang, throwing for three TD passes and bringing up the theme for the season for Iowa's defense: "contain."
The game was exhilarating. The result for Iowa? Not so much. Iowa fans only had to wait a week for everything to be all better.
Down 24-3 with just more than three minutes remaining in the fourth quarter, quarterback James Vandenberg, who finished with 399 yards and three TDs, led Iowa to a 31-27 victory over Pittsburgh, the greatest comeback win in Iowa school history.
Iowa ran a no-huddle four-receiver offense that really clicked . . . until the next week at Penn State, a 13-3 loss.
One step forward, one step back.
On . . . side . . . kick
It really needs no introduction, but if we must, the onside kick that Minnesota executed at the beginning of the fourth quarter really stole the Gophers a 22-21 victory over Iowa, their second consecutive over the Hawkeyes.
Special teams came up during Insight week. Ferentz didn't name names, but if you read between the lines here, you might see a man calling shenanigans.
"One of the biggest plays in our season, if you, quite frankly, want to know, you go back and look at it and look at the rule book, it was a bad break," he said. "As a result of that, it's not going to come back, it's not going to change any outcome, any-- and I don't expect-- that's part of football. As a coach, player, you deal with those things.
"The one thing I learned out of that situation, that needs to be a reviewable play and I will push for that in out-of-season.
"And I certainly don't blame any parties involved there. That's a play that is impossible to officiate. It's too fast. It happens too quickly, too many bodies in there. That needs to be a reviewable play. I never even thought of that until that Sunday, that Sunday-- Saturday evening watching it on tape. I learned something there. I'd advocate for that.
"But that was a big play in our season certainly. That's football, too, so you move on and just keep going."
Goal-line stand, for the win
Iowa's defense maybe epitomized the "one step" theme for '11.
It was always the "oh yeah." Iowa was going to go as far as McNutt, Vandenberg and Coker would take it. That was what happened, for the most part, but you can't take the Michigan away from the Hawkeyes' defense.
First, second, third and fourth downs, the Wolverines came up with bupkus from Iowa's 3. The Hawkeyes blitzed and played a nickel defense with zone coverage.
Cornerback B.J. Lowery made the game-winning play, knocking a pass intended for Roy Roundtree with his left hand, which was covered with a cast.
Suspensions and uncertainty
One game away from 2012 and Iowa running back is a massive unknown.
Coker is suspended with an open door for a return.
"Yes, the invitation is there for him to come back," Iowa athletics director Gary Barta said. "We'll let this play out and see what happens."
Freshman running back Mika'il McCall is suspended and his return is uncertain. He hasn't told Iowa he's leaving, but did post it briefly on Facebook this week.
"He's suspended for the bowl and when we get back, we'll go from there." Barta said.
Defensive coordinator Norm Parker announced his retirement before the bowl. Defensive line coach Rick Kaczenski resigned and accepted the same job at Nebraska.
Ferentz said he will be deliberate with the search.
One step at a time, after all.