Home / Sports / Columns & Sports Commentary
Hlas: Ex-Coe Kohawk Fred Jackson accelerating in NFL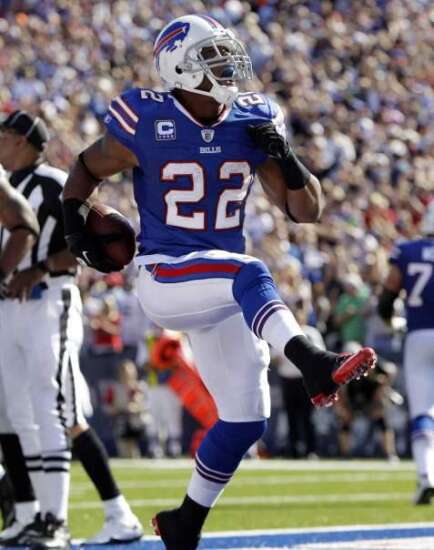 Had Fred Jackson had been playing for a championship-quality NFL team the last couple of years, he might be Kurt Warner.
Which is to say, the Buffalo Bills running back's journey to pro football success has been as unconventional and unlikely as Warner's, and playing for a winner would have gotten Jackson similar attention.
But that attention is building as fast as a Jackson run. The Bills improved to 3-0 Sunday with a stirring 34-31 win over the New England Patriots. Jackson was a focal point with 74 yards rushing and 87 receiving.
Jackson's story is already known in Cedar Rapids and Iowa. His senior season of football at Coe College was 2002, when he earned his second-straight Iowa Conference MVP award and helped the Kohawks to a league-title and an NCAA Division III playoff win.
Warner played in the Arena Football League for three years. Jackson played two seasons in a third-tier indoor league, with the Sioux City Bandits.
But this isn't just some heart-tugging story about a player defying the odds of that background to put on an NFL uniform. As Jackson's college coach said Tuesday, "He's dominating."
Erik Raeburn, now in his fourth year of coaching at Wabash College in Crawfordsville, Ind., has a couple of his former Kohawk players on his staff.
"When they see him on ESPN," Raeburn said, "they say all those Iowa Conference defensive guys who played in the early 2000s don't feel so bad now. The Patriots' guys aren't able to tackle Freddie, either."
"Fred Jackson, he is so underrated," said New England defensive tackle Vince Wilfork said, and that was last week before Jackson got the better of the Patriots. "This guy, I think I said it a couple of years ago and I know I said it last year, he is so underrated. He's just one of those tough backs. You can give him the ball 30 times if you want to."
Jackson is averaging 101 rushing yards (fourth in the league) and 139 total yards per game for the 3-0 Bills. His 6.45 yards per carry leads the NFL for all players with more than 12 carries this season.
He rushed for over 1,000 yards in 2009 and came close last year, but is hitting new personal statistical levels as a Bill. If the season ended today, he'd be in the Pro Bowl.
"He was always fast," Raeburn said, "but now every year he's gotten bigger. He's maybe 15 pounds heavier than his senior year at Coe."
When Buffalo opened this season at Kansas City, Dan and Katy Breitbach of Cedar Rapids were among 30 to 35 people with Coe connections who sat in a section of Arrowhead Stadium wearing No. 22 Jackson Bills jerseys. Dan is the senior development officer at Coe.
The Breitbachs became a second family of sorts for Fred and twin brother Patrick Jackson after they left their Fort Worth, Texas home to compete in football and track at Coe. Patrick is a youth program counselor for Four Oaks in Waterloo.
"Our initial connection was Wayne Phillips, who coached football and track at Coe in the '70s," Dan Breitbach said. "He retired and moved to Texas, and he coached the Jacksons in middle school. He encouraged them to consider Coe, and called me and said he had a couple of good kids coming up who would be a long way from home, so could I look after them a little bit."
The twins started being frequent guests at the Breitbachs for Sunday dinners and more. They have remained, Dan said, "such an important part of our family, and we theirs, too."
Fred Jackson married Danielle Allen of Alta, Iowa, also a Coe graduate. They have three children.
Breitbach calls Fred "hardheaded," but in a good way.
"He wouldn't shy away from a challenge," Breitbach said. "He didn't feel like he was done (with football after Coe). That hardheadedness applies to his running style, too. He doesn't get tackled easily. He carries people with him."
Coe graduate and former Kohawks coach Marv Levy was the Bills' general manager in 2006. He watched Jackson's tapes and signed him to a free-agent contract. His NFL tryout, like Warner's, involved spending a season in NFL Europe.
Levy loves Coe, but there is no sentiment when it comes to filling out NFL rosters.
Breitbach said this is what Levy told him: "Dan, I had absolutely nothing to do with it. Fred's just a good NFL player. All I did was give him the opportunity to play in NFL Europe. After that, he made it work."
The Bills were 4-12 in 2010. Breitbach said Jackson claims not to know what everybody's so excited about now, since the Bills "still haven't won as many games" as they did last year.
By the way, the record of the St. Louis Rams the year before Warner led them to the Super Bowl title in the 1999 season? That would be 4-12.