Home / Sports / Iowa Hawkeyes
Eyes on the prize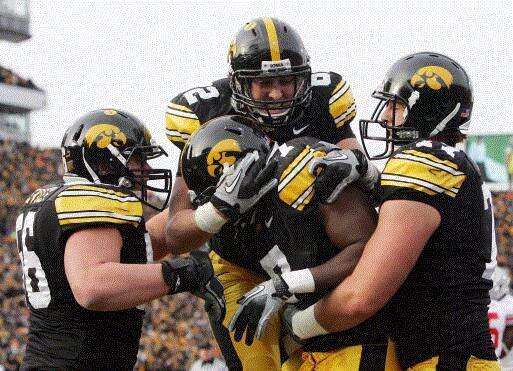 IOWA CITY -- Wide receivers will climb Mount Everest. And they will advertise it.
It's a high-wire act. The successes are monstrously front and center, usually the stuff of ESPN plays of the day. The position demands boldness, a certain cockiness. Not too much, but just enough.
So, yeah, Iowa's Marvin McNutt needs 86 catches and 1,071 yards to become Iowa's career receiving leader. Seems like a lot, especially given the fact that Iowa has had just three receivers ever gain more than 1,000 yards in a season. And, yeah, the 86 catches would be four more than any other wide receiver has ever caught in a season at Iowa (Kevin Kasper 82 in 2000).
But wide receivers being wide receivers, McNutt isn't backing down.
During an interview Tuesday, McNutt talked of the potential of the young receivers and that someday . . .
"I feel like each one of those guys are capable of breaking my record or whatever record I hold," McNutt said.
Wait, hold up. McNutt doesn't have a record. Well, he doesn't have a record yet. The 6-foot-4, 215-pounder has 16 career TD receptions, just five of the record of 21 held by Tim Dwight (1994-97) and Danan Hughes (1989-92). That one is definitely within reach, considering McNutt's eight TDs in each of the last two seasons.
McNutt said he tells the young wide receivers to be themselves, don't try to be the next Marvin McNutt.
Then, he's reminded the records might take some time and that Derrell Johnson-Koulianos' receptions (173) and yardage (2,616) are way out there.
"Oh yeah," McNutt said and then laughs. He's told that it would take an unprecedented season in Iowa football history as a receiver to catch Johnson-Koulianos.
He smiles and eyeballs the cameras mischievously. The look says it all.
"As receivers, we're always competing," said McNutt, who has 88 receptions for 1,546 yards. "We're all competitive and we all like having fun. That's what it's all about when you're playing college football."
First things first. This is June, so the Hawkeyes are in the midst of conditioning drills. The skill players will add seven-on-seven drills Wednesday. McNutt is more than excited for this. He's a fifth-year senior, so he's seen a few of these. But he also missed spring practice after thumb and shoulder surgeries.
When asked about the beginning of seven-on-sevens, again, the look says it all.
"It's been a long time since I've been able to line up across [Shaun] Prater and those guys as a unit," McNutt said. "It'll be fun."
McNutt, who had basketball and baseball options coming out of Hazelwood (Mo.) Central High School, also will start to develop the all important timing and chemistry with new quarterback James Vandenberg. Yes, the two connected for a pair of TDs at Ohio State in '09, but that was '09.
There is nothing definitive to be said about Vandenberg as a QB, at least not yet, but McNutt has seen the arm and knows the smarts are there.
"One thing I can tell you that you all already know is that he's a smart kid," McNutt said. "He'll make the right decisions and, obviously, he can keep his poise in any environment. He went up to Ohio State a few years ago and played in a hostile environment, a great environment, and he played really well."
McNutt, who made the conversion from QB in 2008, has things other than records out in front of him in '11. He went through the NFL draft evaluation process last year. He came close to making a run to the league, but decided to come back with the hope of improving his draft status.
"It was just an eye opener," McNutt said. "You have the opportunity to go to the NFL and you're looked at throughout the country now. You want to prepare to be the best you can."
McNutt was asked about the first round. You never know what could happen, he said. He was asked if he's looked at other wide receivers in the draft. No, he said, focus is on Iowa and what's in front of him this season.
He smiles a little. The look says it all.