Home / Sports / Iowa Hawkeyes
Breaking down Iowa basketball's non-conference schedule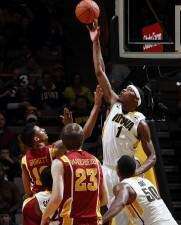 At first blush, it's not inconceivable Iowa's men's basketball program could equal its 2010-11 win total of 11 by the end of its 13-game non-conference schedule this fall.
Iowa's non-conference opponents finished 192-225 last year. Four teams played postseason basketball; only one advanced to the NCAA Tournament. There's no exempt tournament in an exotic location like Las Vegas, the Virgin Islands or Maui. The Hawkeyes won't leave the state until Big Ten season, and 10 of their 13 non-conference games will be held at renovated Carver-Hawkeye Arena.
Iowa (11-20 last year) entered Big Ten play 7-5 last year and 5-7 in 2009-10. Based on the schedule - coupled with returning experience and incoming talent - it's more likely Iowa finishes non-conference play like it did in 2008-09 (10-3) than suffer the way it has the last two years.
Here's a look at how Iowa stacks up against its non-conference competition this year:
Nov. 11 vs. Chicago State (H)
[naviga:ul]
[naviga:li]Chicago State was 6-26 last year and lost its best player in Carl Montgomery, who averaged 17.3 points and 8.1 rebounds a game. This is the first game of the Dale Howard Classic, a four-game exempt series honoring Iowa's long-time booster. It's also held the night before Iowa's home football finale, so Hawkeyeland hopes the football crowd checks out Iowa's basketball season opener. Iowa is 3-0 historically against Chicago State with the last meeting in 1997. Iowa has lost its last two season openers.[/naviga:li]
[/naviga:ul]
Nov. 14 vs. North Carolina A&T (H)
[naviga:ul]
[naviga:li]This is the second game in the Dale Howard Classic and features a team Iowa never has played. North Carolina A&T was 15-17 last year and lost its leading scorer in Thomas Coleman, who averaged 17 points a game.[/naviga:li]
[/naviga:ul]
Nov. 17 vs. Northern Illinois (H)
[naviga:ul]
[naviga:li]This regular-season game pits Iowa against a school without its top scorer from last year in Xavier Silas, who put up 22 points a night. Northern Illinois has a new coach and has never beaten Iowa in five tries. The Huskies were 9-21 last year.[/naviga:li]
[/naviga:ul]
Nov. 20 vs. Creighton (Wells Fargo Arena, Des Moines)
[naviga:ul]
[naviga:li]On paper this is Iowa's first serious test, and it's held at a neutral site. The Blue Jays were 23-16 and advanced to the CBI Tournament finals last year. Creighton boasts power forward Doug McDermott, the Missouri Valley Conference freshman of the year. McDermott -like Iowa forward Melsahn Basabe -was invited to try out for the U.S. 19-and-under team. McDermott was one of three freshmen since 2003 - Kevin Durant and Carmelo Anthony  were the other two - with at least 525 points, 270 rebounds and 40 3-pointers in a season.[/naviga:li]
[naviga:li]Iowa is 14-10 historically against Creighton, and this game also is part of the Dale Howard Classic. Nebraska originally was slated as the opponent for this game (with a proposed 2012 return trip to Omaha) but Creighton filled in when the Cornhuskers jumped to the Big Ten. Blue Jays Coach Greg McDermott formerly led Northern Iowa and Iowa State. The teams' last meeting was March 15, 2001 in the NCAA Tournament. Iowa won that game 69-56, its last NCAA Tournament win.[/naviga:li]
[/naviga:ul]
Nov. 23 vs. Campbell (H)
[naviga:ul]
[naviga:li]In the Dale Howard Classic finale, Iowa faces a team it never has played. The Camels were 12-19 last year and their most impressive win was a 61-54 upset of Auburn. Campbell returns leading scorer Eric Griffin.[/naviga:li]
[/naviga:ul]
Nov. 26 vs. IPFW (H)
[naviga:ul]
[naviga:li]The Mastadons posted a winning record last year at 18-12 and were competitive in the Summit League. Iowa and IPFW played four common opponents, and the results were comparable. Both teams lost to South Dakota State (IPFW lost three times) and Xavier and pounded SIU-Edwardsville. IPFW also lost to Purdue, while Iowa split with the Boilermakers. Tony Jasick is the team's new head coach, replacing former Indiana alum Dane Fife, who now is an assistant at Michigan State. The teams never have played.[/naviga:li]
[/naviga:ul]
Nov. 29 vs. Clemson (H)
[naviga:ul]
[naviga:li]Iowa's ACC-Big Ten Challenge opponent is the Hawkeyes' only non-conference opponent to advance to the NCAA Tournament last year. Clemson Coach Brad Brownell was interviewed by Iowa Athletics Director Gary Barta and Associate Athletics Director Fred Mims during the team's coaching search in 2010. The Tigers (22-12 last year) lost their top three scorers and incoming freshman Devin Coleman was recruited heavily by Iowa Coach Fran McCaffery last summer. The Hawkeyes have dropped their last five in the ACC-Big Ten Challenge, although two of the last three were decided in the final second. Iowa is 2-0 against Clemson.[/naviga:li]
[/naviga:ul]
Dec. 3 vs. Brown (H)
[naviga:ul]
[naviga:li]The Bears finished 11-17 overall and 4-10 in Ivy League play last year. Sophomore guard Sean McGonagill was named the Ivy League Rookie of the Year last year. Iowa owns a 1-0 series advantage.[/naviga:li]
[/naviga:ul]
Dec. 6 at Northern Iowa (Cedar Falls)
[naviga:ul]
[naviga:li]Northern Iowa generally poses a threat to Iowa in Cedar Falls, where the Panthers have won four of the last five in the series. UNI blasted Iowa 67-50 two years ago, but the Hawkeyes countered last year in Iowa City with a 51-39 win. The Panthers, which advanced to the CollegeInsider.com Tournament quarterfinals, finished with their third straight 20-win season last year. UNI does lose big-game guard Kwadzo Ahelegbe and tough post player Lucas O'Rear. Some of the better UNI players to return are Jake Koch, Johnny Moran and Antonio James. Iowa is 33-8 historically against UNI.[/naviga:li]
[/naviga:ul]
Dec. 9 at Iowa State (Ames)
[naviga:ul]
[naviga:li]The premium in-state game is held at Hilton Coliseum next year. Iowa State will look completely different with transfers Chris Allen (Michigan State), Chris Babb (Penn State) and Royce White (Minnesota) combining with shooter Scott Christopherson. Iowa historically struggles in Ames, losing four straight at Hilton. The Cyclones ended their own three-game losing streak at Carver-Hawkeye Arena last year in an electric 76-73 game. This likely will be the Hawkeyes' toughest non-conference game. Iowa leads the series 42-22.[/naviga:li]
[/naviga:ul]
Dec. 17 vs. Drake (H)
[naviga:ul]
[naviga:li]Drake has slid since its historic 2007-08 NCAA Tournament season and finished 13-18 last year. Iowa has won two straight in the series, including 59-52 last year, after dropping three straight. The Bulldogs return talented sophomore Rayvonte Rice, who scored 13.8 points a game last year.  Iowa owns a 55-10 series advantage.[/naviga:li]
[/naviga:ul]
Dec. 19 vs. Central Arkansas (H)
[naviga:ul]
[naviga:li]Central Arkansas has yet to post a winning record since moving to Division I in 2006 and was 5-24 last year. Former Arkansas All-American and NBA 12-year veteran Corliss Williamson is in his second year as coach. The teams never have played.[/naviga:li]
[/naviga:ul]
Dec.22 vs. Boise State (H)
[naviga:ul]
[naviga:li]The Hawkeyes wrap up non-conference play against Boise State, which finished second in the Western Athletic Conference last year. Boise State was 22-13 and competed in the CollegeInsider.com Tournament. The Broncos lose leading scorer La'Shard Anderson, who averaged 15.1 points, and leading rebounder Daequon Montreal.[/naviga:li]
[/naviga:ul]