Home / Sports / Columns & Sports Commentary
Iowa-Nebraska set for Saturday in 2013, 2014 but will that change?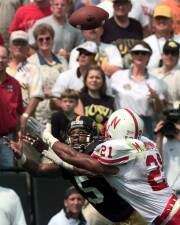 IOWA CITY - Iowa and Nebraska will complete their regular-season football seasons against one another for the next four years, according to schedules released by the Big Ten.
In 2011 and 2012, the schools will play the Friday following Thanksgiving. In 2013 and 2014, the schools are slated to compete on Saturday but that could change, Iowa Athletics Director Gary Barta said Thursday.
"It's exciting that at least for four years that we're going to play Nebraska as the last game of the year," Barta said. "We've committed to two years on Friday to see how it goes. My assumption is that it's going to go well. If it does, my guess is that (Nebraska Athletics Director) Tom Osborne and I will come together and say should we continue to doing it on Friday?
"For now it's two years on Friday for sure. It will be the last game of the year. The two years beyond it, whether or not its Friday or Saturday, is yet to be determined."
Nebraska joins the Big Ten this fall and both schools compete in the league's newly created Legends Division for football.