Home / Sports / Columns & Sports Commentary
Iowa football ticket costs up, 5th-highest in Big Ten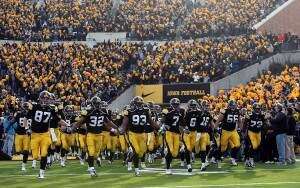 IOWA CITY - Iowa will raise football ticket prices this fall, the second consecutive year the school has issued an increase.
General public season tickets will increase by $2 a game to $374, up from $360 last year. Faculty season tickets also increase by $2 a game while student tickets increase by $1 per ticket.
Iowa Athletics Director Gary Barta said a possible 5 percent increase in tuition, coupled with other rising costs, played a part in the decision to raise ticket prices.
"Even if tuition didn't go up, just the expenses we anticipate at some point," Barta said. "Our staff hasn't had a raise for a couple of years. I do anticipate tuition will go up. I anticipate medical costs will go up. I anticipate just cost of inflation, we have to account for that somewhere in revenue."
Regent institutions face a possible 5 percent increase in tuition, which means scholarship costs could soar. Last year Iowa's athletics department spent more than $8.58 million in scholarships, according to documents supplied via the Freedom of Information Act. A 5 percent increase could bump those numbers by nearly $430,000.
Based on Iowa's 2010 ticket sales, the 2011 ticket increase could offset the potential tuition hike and raise an estimated $476,000 in revenue. Entering last season Iowa sold around 37,000 public season tickets, 6,000 student season tickets and 8,000 faculty season tickets.
Iowa earned more than $19.28 million in football ticket revenue for the 2009 season.
"It's a little challenging - as I mentioned - to put your revenue budget together before you know all of your expenses," Barta said. "But that's our best estimate going forward."
Iowa's general public football ticket are priced fifth among the Big Ten's 12 schools. Only Ohio State ($490), Nebraska ($392), Penn State ($385) and Michigan ($375) cost more. Only Penn State ($218) and Michigan ($197) charge more for student season tickets than Iowa ($175), however.
Iowa has three pricing structures for single-game sales. Michigan is considered a premium game at $70 a ticket. Single-game tickets for Big Ten rivals Northwestern, Indiana and Michigan State will cost $65, while single-game tickets for non-conference games cost $57.
Only three Big Ten schools figure a league opponent into its ticket pricing. Along with Iowa's game with Michigan, Purdue charges $9 more for Ohio State. Minnesota charges $70 for single-game tickets against Iowa, Nebraska and Wisconsin and only $50 against Illinois.
Iowa will not increase per-game ticket prices for wrestling and men's and women's basketball next year. Iowa anticipates playing 20 home men's basketball games next year - three more than this year - so the total cost will rise to $296 from $266. Wrestling ($67) and women's basketball ($70) will stay the same. Barta said all three sports have seen a significant attendance spike this winter including wrestling, which set the school record with an average of 8,209 fans a meet.