UI releases emails showing response to hospitalization of athletes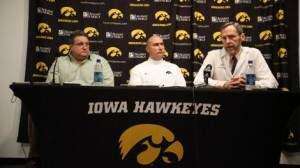 IOWA CITY - Even the University of Iowa's top communication official disagreed with the Athletics Department's handling of the football player hospitalizations in January, according to e-mail communications released Tuesday by the UI.
During a week of intense media and public scrutiny regarding the Jan. 24 hospitalization of 13 football players, Vice President for Strategic Communication Tysen Kendig said he thought the university's first public statement on the issue raised more questions than it addressed, according to the more than 100 pages of email communications released by the UI to media outlets that filed Open Records requests.
Kendig, who joined the UI in February 2010 with a goal of bringing cohesiveness to the university's message, wrote in an email Jan. 25 to seven UI officials, "I'm just wondering aloud if we're accomplishing any objective by issuing such a statement as written."
"For instance, it doesn't at all address what happened? What was the cause?" Kendig wrote, listing several questions raised by the statement. "All we really say is that players were hospitalized en masse, but don't cite a reason at all. That could lead to public health concerns to a small degree, but certainly to rampant and unfounded speculation."
Dr. Ned Amendola, the team physician, replied that giving too much information that is not confirmed also raises more questions.
"We generally have been very careful with medical issues and what is best for all concerned," Amendola wrote in response.
The emails released by the UI show officials carefully crafted messages sent out to the media about the athletes, who had rhabdomyolysis, a breakdown of muscle fibers that can lead to kidney damage. The players all were released from UI Hospitals and Clinics by Jan. 30.
A large share of the emails involve writing a public statement for Head Football Coach Kirk Ferentz, who was out of town on a recruiting trip when the players were hospitalized.
Rick Klatt, an associate athletics director, said in a Jan. 27 email to Athletics Director Gary Barta and Mark Braun, President Sally Mason's chief of staff, that the UI should use Ferentz statement to "control the message" about the injured athletes, adding that "we can be 'verbose' if we feel we need to."
Sports Information Director Phil Haddy disagreed.
"I think it's a little long for a Kirk Ferentz message," Haddy wrote in a Jan. 28 email. "Everyone knows he keeps things short and to the point. I know this is important, but I think they will probably know he didn't write it."
At least 16 university, athletic department and hospital officials were included in the string of emails from Jan. 25 to Jan. 28. There were no emails from Ferentz approving the message, and he was not copied on any of the conversations, though discussing things with Ferentz is mentioned. That also could have been done by phone, Kendig said.
It shouldn't surprise the public that Ferentz doesn't write his own statements – particularly in a high-profile story, said Dr. G. Lynn Lashbrook, a former athletic director at the University of Missouri and president of Sports Management Worldwide, a sports management company based in Oregon.
"I wouldn't call it abnormal," Lashbrook said. "As part of any process under scrutiny, they usually bring in the full apparatus of the university."
Kendig on Tuesday said when he raised the questions about the first UI statement, the message had already gone out. People were using their best judgment in communicating about a situation that was very fluid and evolving, with many uncertainties, Kendig said.
"I don't believe what anyone did under those circumstances was wrong, I just think it needed to be better coordinated and we need to be better coordinated in what we're doing from an external message standpoint," he said.
That "decentralized" internal culture of communication is something Kendig is working to change, and he said that decentralized culture played a role in the response in this incident, which drew criticism publicly and from the national media.
One email among UI officials discussed a tweet by a CBS journalist that mentioned going "thermo-nuclear" on the UI and Ferentz.
"Re: national media … not surprised at all with the reaction … but I'd like to think they'll be in touch with Phil/Steve before they elect to go 'nuclear' … but it also speaks to the importance of getting out in front of this today," Klatt wrote in a Jan. 26 message.
"We need to do a better job in getting people to understand how important internal communication is to effective external messaging and imaging," Kendig said Tuesday. "We've talked about this process and how it unfolded internally. We'll make adjustments moving forward" to do a better job.
The UI would have been served by taking Kendig's advice to provide more information from the beginning, said Lashbrook, the media agent.
"We make a major mistake on controversies of not being more transparent," he said. "The more proactive you are, the better."
An e-mail from Lisabeth Kestel, a director of rehabilitative therapies at the UI and member of the Student Athlete Welfare Subcommittee, to Fred Mims said the lack of transparency between the athletics department and other areas of the university is an ongoing problem.
"The lack of transparency (not necessarily by you) of the athletic department in working with the [Presidential Committee on Athletics] over the last few years has been frustrating to me at best," she wrote to Mims, a UI associate athletics director.
An email from Klatt to Kendig, Barta and four other UI officials on Jan. 28 ends with a reminder that says "also – very, very important – please delete this email after reading it." The email was in regards to the discussion about what the statement from Ferentz should say.
"One of the many important things is that he agrees with the message – it is his, after all – and it is accurate, regardless of its length," Klatt wrote in that email.
UI emails are public record, under Iowa law.
Klatt said it's common for sports information staff to write statements for Ferentz and Athletics Director Gary Barta, but Ferentz and Barta always have a chance to review and rewrite them.
Klatt said he routinely deletes emails that might concern controversial subjects because he doesn't want drafts containing inaccurate information to become public and to decrease opportunities for miscommunication.
"A string of emails is often part of a greater discussion including phone calls and hallway conversations," Klatt said.
Another series of emails touches on a media inquiry about when Ferentz was in touch with his players or their parents by phone.
"I recall providing Kirk with the parental phone numbers on Tuesday, and I'm quite certain he started calling parents beginning Tuesday afternoon/evening once he had information from the physicians," Director of Football Operations Paul Federici wrote in a Jan. 28 message.