Home / Sports / Columns & Sports Commentary
Iowa's Fran McCaffery says Melsahn Basabe back to 100 percent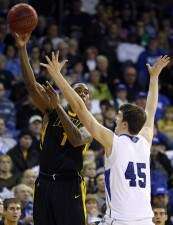 IOWA CITY - Iowa freshman forward Melsahn Basabe was plagued by illness in the Hawkeyes' last two games, but Coach Fran McCaffery said Basabe is "fine" entering the Hawkeyes' game Tuesday against Ohio State.
"He was sick for the Louisiana Tech (and) played anyway," McCaffery said this morning. "Gave us some quality minutes. Obviously played against Illinois - 12 minutes - but he had no energy because he hadn't eaten in about five or six days, just fluids."
McCaffery said Basabe received intravenous fluids before the Illinois game. Basabe scored four points and had two rebounds against the Illini. He played 26 minutes against Louisiana Tech the previous week.
"He's eating now, he's been practicing well. He's fine," McCaffery said. "He's lost a few pounds but he's fine."
Basabe, who stands 6-foot-7, averages 8.2 points and 6.0 rebounds a game. He's started every game for the Hawkeyes.
Iowa (7-6) hosts the No. 2-ranked Buckeyes (14-0) with an 8 p.m. start Tuesday. The Big Ten Network will air the game.