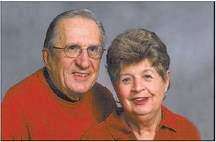 Larry & Kathryn Swanson's 50th Anniversary!
Larry Swanson and the former Kathryn Ashland were married on October 16, 1960, at Zion Lutheran Church in Clearlake, IA.
Their family includes four children and eight grandchildren: Dave and wife, Sandi, with son, Caden; Kris and husband, Tom, with daughters, Mallory and Alyssa, and son, Cael; Jim and wife, Brenda, with daughters, Kelby and Clair; Lee and wife, Stacy, with daughter, Brynn, and son, Easton.
Family & friends wish them a very happy 50th Anniversary!
Cards may be sent to:
824 29th St NW Cedar Rapids, IA. 52405