Home / Sports / Columns & Sports Commentary
Love it or leave it -- The Ricky Stanzi Explanation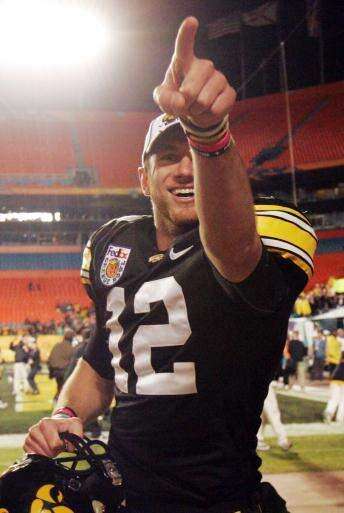 IOWA CITY -- It was a softball question thrown at the Orange Bowl-winning quarterback. And Ricky Stanzi sent it into orbit.
"Of course, there's nothing better than being American," the Iowa quarterback said to Fox Sports reporter Chris Myers after Iowa's 24-14 victory over Georgia Tech. ". . . If you don't love it, leave it. USA, No. 1."
And on it went into Hawkeye lore. The question and answer still live on YouTube, with one particular take sitting with 84,000 views.
Friday, Stanzi went through the thought process in his on-the-spot answer.
"I understand now what he was trying to get at, but at the time, I thought, wow, this is kind of a deep question, I'm not sure how to answer it," the Iowa senior said. "So, I figured I'd put a little spin on it and get patriotic with it. We're all patriotic on this team, especially the guys I live with."
Senior fullback Brett Morse is one of Stanzi's roommates.
"He says that all the time. We always say, 'These colors don't run,' 'If you don't love it, leave it, USA No. 1,' " Stanzi said. "So, naturally, that was first thing that popped in my head. On a day-to-day basis, it's the first thing I hear when I wake up."
 Stanzi pointed at Morse after answering Myers' question.
"That's something we've said to each other, a lot," Stanzi said. "If you don't love it, leave it. It kind of just naturally rolled off.
"All he had to say was America, from there, alright, we'll just take it and talk about what really matters."
In April, I asked Ferentz what he thought about it. He questioned the question.
"I thought it was kind of amusing," Ferentz said with a laugh
Myers' question didn't amuse Ferentz, however.
It went a little like this, "I know you're from middle America. Do you feel like sometimes you're representing something more than a conference, maybe an entire group of American citizens out there?"
"I think it was a fair answer to a question," Ferentz said. "I'm still trying to figure out why they have people on the sidelines. If you're talking about making cuts in budgets, that would be a good place to start."