Seat belt law for back seat passengers signed into law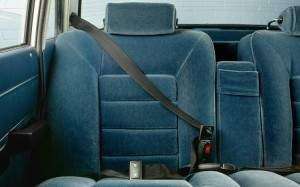 DES MOINES – Isaiah Krull saw his personal lobbying efforts pay off Wednesday when Gov. Chet Culver signed legislation requiring passengers up to age 18 to wear seat belts or restraints in the back seat of a vehicle traversing Iowa roadways.
Krull, 18, has spent the past two years rehabilitating from serious injuries he sustained as an unbuckled back-seat passenger in a vehicle carrying three Waverly-Shell Rock High School students that crashed on the way to a corn detassling job.
He joined a legion of people who worked the past legislative session to win support for a provision to expand the current law requiring children under age 11 to be buckled in or restrained while riding in the back seat of a car. Iowa law requires all front-seat passengers regardless of age to wear seat belts or safety restraints.
"This bill is going to be a stepping stone," said Krull, who was on hand to see Culver signed Senate File 2381 and receive a pen the governor used to sign the legislation during a ceremony at Blank Children's Hospital in Des Moines. He pledged to continue working to expand the language to cover all back-seat passengers regardless of age.
"Like another governor says, I'll be back," said Krull, doing his best California Gov. Arnold Schwarzenegger impersonation. "I want no one to die in a car accident. It doesn't matter what age you are."
David Stark, chief operating officer at Blank Children's Hospital, echoed Krull's sentiments, noting that Wednesday's bill-signing culminated nearly a decade of work aimed at preventing childhood death, harm and injury associated with vehicle accidents – especially unbuckled passengers -- that pose the No. 1 health threat to children aged 13 to 17.
"Today's signing of this bill is absolutely one of the best things we've accomplished in the past 10 years at Blank Children's Hospital," Stark said. "We see first hand, unfortunately, the effects of kids who do not wear seat belts. We see it in our emergency department, we see it in our clinics and we see it in our therapy. We would love nothing more than to absolutely avoid seeing that going forward. This bill will save kids' lives in Iowa."
In signing the bill, Culver left in tact a provision that will allow law officers to cite passengers aged 14 years or older who are in violation of the new law that takes effect July 1.
"We want people to follow the law and there will be consequences if you don't," the governor said in explaining why he chose not to use his item-veto authority on a budget bill that will provide $350 million in transportation funding for fiscal 2011.
"We're talking about saving lives. We're talking about every child required under this law to wear a seat belt so we can prevent potential death or serious injury," he said. "If you talk to Isaiah, he'll tell you that that's a very small price to pay in terms of protecting yourself in a vehicle."
Also Wednesday, Culver chose an electrical workers' union hall to sign House File 2399, which will allow MidAmerican Energy Co. to boost electric consumer rates by $15 million to study the feasibility of building a nuclear plant in Iowa to generate electrical power. The bill provides for an annual electrical bill rate rider for three years of $4 per residential customer, $15 per commercial customer and $1,100 for industrial customers to finance a three-year study to be reviewed annually by the Iowa Utilities Board.
Culver said he signed the bill because it potentially could mean jobs – temporary construction jobs, permanent jobs if a new plant is built, and jobs associated with building out the power grid to transmit excess electrical transmissions that could make Iowa a net exporter of energy.
"We need to create jobs in this state and nuclear power is going to be a part of our renewable energy portfolio," he said. "Our energy security is of utmost importance. This will allow us to identify the very best parts of the state for a potential nuclear plant."
Backers said MidAmerican -- which previously agreed to operate under a rate freeze through 2013 -- needed a cost-recovery mechanism to cover site selection, design, licensing and construction of a plant to generate electricity using nuclear power.
Iowa currently has one nuclear power plant, the Duane Arnold Energy Center near Palo, and one study option could be exploring a tandem nuclear plant near that location, backers said. Culver noted Wednesday that the study also may point to smaller generation facilities spread out over multiple locations in Iowa.
Critics pushed for a broader focus that would include renewable sources, such as solar and biomass cogeneration, and energy efficiency measures that would help address concerns associated with climate change.